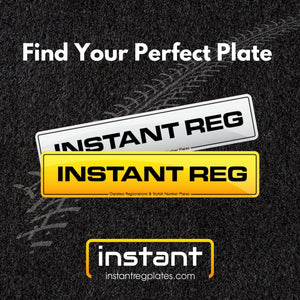 Instant Reg Plates are proud to be top market leading producers of 3D & 4D show number plates & suppliers N.I Dateless Registrations
We supply N.I Dateless Regs throughout the U.K with vast range of unique numbers in stock at any time , each one exclusive to Instant Reg Plates , on certificate and available for immediate transfer between 7AM - 7PM

We manufacture a vast range of bespoke and stylish 3D & 4D numbers plates customised to your personal taste and will certainly help make your vehicle stand out among friends & family, at the car shows and leave plenty of heads turned. 


All 3D / 4D show plates are manufactured using only the highest quality sourced number plate components and every number plate is hand made in-house to ensure the best quality checks are completed so we can always deliver a fantastic product and service to you , our loyal customers.
Number Plate Styles
3D Black Gloss
Our most popular 3D number plates in a raised gloss black resin offer a bold, domed effect and high gloss for a premium number plate finish.
3D Carbon
Another popular plate is our 3D carbon style number plates, finished in a raised resin letter with a carbon fibre look to complement your vehicle.
3D Glitter
Our 3D Glitter gel style number plates are finished in a high sparkle glitter gel that will add a touch of sparkle to any vehicle.